Prof punished for saying n-word in academic context sues for libel, racial discrimination
In 2018, law professor Paul Zwier was suspended and subjected to criticism in university-wide emails for using the n-word during a lecture.
The professor recently filed a lawsuit against the university alleging racial discrimination in violation of Section 1981 of the Civil Rights Act as well as breach of contract and libel.
Zwier says he did so in an academic context as to better explain a legal concept to his students and has since been reinstated.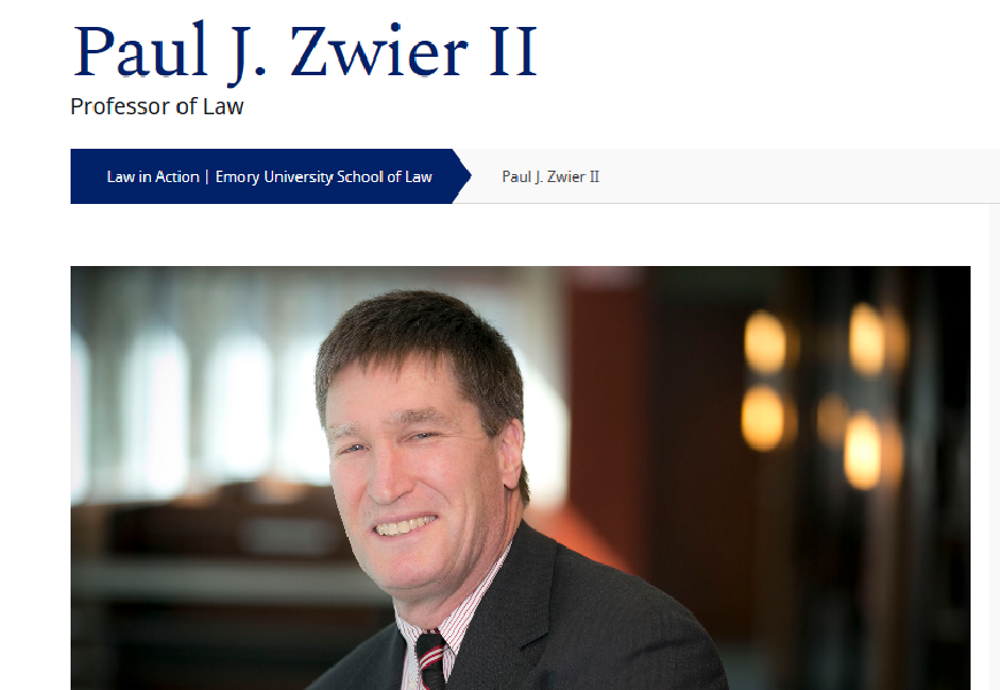 Trending
Could not load trending articles
Paul Zwier, a law professor at Emory University, filed a legal complaint against the institution and former interim law dean James Hughes on August 6, alleging that the school racially discriminated against him, breached his contract, and committed libel.
Zwier, who is White, was previously investigated, suspended, and later reinstated following his usage of the n-word in an academic setting. The lawsuit cited instances where minority faculty, including a Native American adjunct professor, used the n-word but were not subject to punishment as examples of racial discrimination on the part of the university.
The suit also claimed that Zwier was unfairly characterized as racist in a number of communications to the Emory community released by Hughes. These "defamatory statements injured Professor Zwier in his trade and business," according to the complaint, which asserted that, "Hughes made these statements to protect Emory with the understanding that they could and likely would destroy Professor Zwier's legal career."
The case focuses on the handling of two incidents by the university. The first is Zwier's usage of the n-word in a lecture to first-year law students. Zwier maintains that he used the word in an academic context to illustrate the effect language has on the severity of a civil wrong. The professor later apologized for using the term though he claims the university misconstrued his apology to make it appear as if he had admitted to being wrong by stating he "admitted inappropriately using" the term.
His suspension came despite the usage of the word in this context seemingly conforming to Emory's academic speech policies, specifically policy 8.14. Zwier noted that he was suspended without a faculty hearing, which the American Association of University Professors argued was in violation of the university's policy.
[RELATED: CANCEL CULTURE: Profs targeted for standing up to the Left]
One of Zwier's interactions with a Black student was also discussed in the suit. The student, who requested to have a private meeting with Zwier regarding his usage of the n-word in the past, allegedly used the opportunity to make "unrelenting accusations" aimed at the professor.
According to the complaint, Zwier relayed an anecdote where he had been called a "n***er-lover" by White people because of his commitment to racial equality, and after hearing this the student then allegedly tried to "blackmail" him into releasing a statement calling Emory racist, stating that he would otherwise write an opinion piece in the Washington Post demanding his resignation.
In a subsequent meeting with a friend of the aforementioned student, which he recorded, Zwier spelled out but did not repeat, the n-word in reference to his "n***er-lover" comment.
Zwier said that he contacted Hughes after the encounters and found out that the second student reportedly tried to blackmail Hughes as well.
Despite this, and despite Zwier's claims that he provided audio evidence supporting the assertion that he did not say the n-word in the second meeting, Hughes nonetheless released a statement to the Emory community claiming Zwier used the term two more times in "a conference with an African American student" and "in a meeting with another student whose race is unknown to me."
The complaint stated that "Hughes made this statement despite being in possession of the recording that demonstrated that the statement was false." Zwier noted that non-white co-workers, despite also saying the n-word, were not subject to the same punishments nor the same public response from the university, which, according to the suit, constitutes racial discrimination.
Emory University Assistant Vice President of Communications and Public Affairs Laura Diamond told Campus Reform that "Emory University disagrees with the characterization of what occurred and will vigorously defend itself against this lawsuit." The university's statement did not address questions posed to it as to why Zwier was allegedly punished for doing what other faculty have done without being punished.
[RELATED: UCLA professor suspended, placed under police protection after denying special treatment to minorities]
Zwier's colleague, Professor Emeritus William J Carney, who has authored complaints on behalf of Zwier, told Campus Reform that Zwier "was suspended without a hearing, in violation of the rules of the AAUP" asserting that he was "unfairly treated."
When asked about Zwier's use of the n-word for the purpose of instruction, Carney said that "one ought to be free to say anything that advances the teaching mission." He went on to lament that "too many of today's students have been trained to look for 'microaggressions' (whatever that means) rather than to listen to the meaning and intent of the speaker."
Carney pointed out "the report of the Office and Equity Inclusion focused on the negative reactions of students and some (in one case racist) faculty" instead of "what Professor Zwier was attempting to teach."
While he was unsure about the legal aspects of the situation, Carney stated that he does "know that Paul Zwier suffered emotionally from these false accusations" and "that he lost some relationships with professional organizations as well."
Campus Reform reached out to Zwier for comment but did not get a response in time for publication.
Follow the author of this article on Twitter: @RobertSchmad